Acorn Food Network picks up sustainable food award
17 November 2023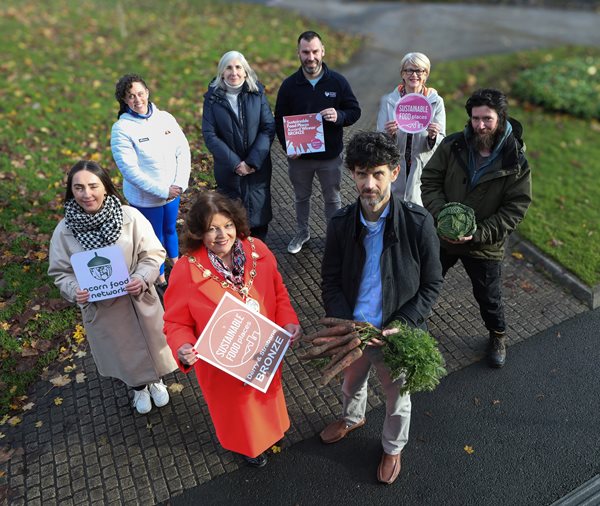 The Mayor of Derry and Strabane, Councillor Patricia Logue, today extended her congratulations to local food partnership the Acorn Food Network on winning a prestigious Sustainable Food Places Bronze Award.
The award recognises the network's success in promoting healthy, sustainable and local food and addressing some of today's greatest social challenges, from food poverty and diet-related ill-health, to the disappearance of family farms and the loss of independent food retailers. The wider Sustainable Food Places programme is funded by the Esmée Fairbairn Foundation and the National Lottery Community Fund and supports places to transform food culture.
Mayor Logue said it was fantastic to see the new joined up approach to food already starting to make a difference. "From across the district organisations, groups and businesses have been working hard to help improve access to local good food - from allotment sites in Strabane, to Derry City's LegenDerry restaurants, to Eglinton's Community Larder," she explained.
"Our attitude to food and nutrition is changing and people recognise the value of creating sustainable food resources and being able to source fresh food locally. Well done to all the members of the Acorn Food Network for their dedication to raising awareness and inspiring people to join the 'Good Food Movement' locally."
Sustainable Food Place Coordinator with Derry City and Strabane District Council, Allan Bogle, said: We are delighted to receive this award. Food is complex. Our relationships with food are complex. There are few things in life that bring us together quite like food. The Acorn Food Network aims to grow a sustainable local food system that is good for people, good for the economy and good for the planet; built around fresh, local, seasonal and affordable food."
Leon Ballin, Sustainable Food Places Programme Manager, said: "Derry City & Strabane has shown just what can be achieved when creative and committed people work together to make healthy and sustainable food a defining characteristic of where they live. While there is still much to do and many challenges to overcome, The Acorn Food Network has helped to set a benchmark for other members of the UK Sustainable Food Places Network to follow. We look forward to working with them over the months and years ahead to continue to transform Derry City & Strabane's food culture and food system for the better."