Join the art trail for a Culture Night to remember
18 September 2023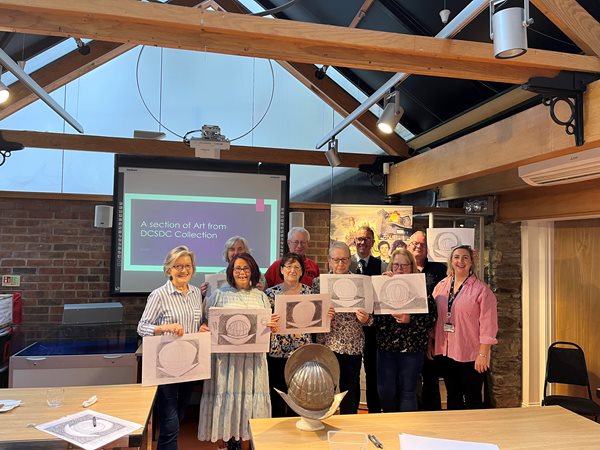 On Friday September 22nd, venues across the country will throw open their doors to offer an exciting array of cultural experiences free of charge as part of Culture Night.
The event celebrates art and culture in all its forms and offers people the chance to connect with local cultural organisations and engage in new activities.
Among them this year is the Tower Museum in Derry, working in partnership with local venues and artists to bring some beautiful pieces of art to temporary homes across the city as part of a special art trail. The event is also part of the museum's 'Art in the Community' programme, showcasing art from the museum's collection. Delivered in partnership with National Museums Northern Ireland and funded through the Esmée Fairbairn Collections Fund, the programme aims to bring art to a wider audience.
Curator with the Tower Museum, Roisin Doherty, revealed more about the trail. "The Art in the Community Programme aims to shine a light on some of the wonderful art works we hold here at the Tower Museum. It features an eclectic array of pieces, mostly by local artists, and pieces have been selected for display by three local galleries: Eden Place Arts Centre (Pilot's Row), The Cowley Gallery (Craft Village) & Centre for Contemporary Art (Artillery Street). We hope that by showcasing the work in other venues, it will help promote engagement and make people aware of the fantastic talent we have here in the city.
"The collection takes in a wide variety of genres and this is just a select number of pieces which local art enthusiasts and the organisations have brought together under a number of themes. I would really recommend following the trail and immersing yourself in the full experience on Culture Night."
Take a walk over to the city's picturesque Craft Village to sample some 'Short Stories in Art' at the Cowley Gallery, Han Clothing and Sass and Halo. The space will be brought to life as the stories behind three art works are revealed though a fun, interactive story telling experience courtesy of the Makey Uppers. The shows run at 5pm, 5.30pm and 6pm.
Experience a sense of 'Home, Identity and Belonging' at the Centre for Contemporary Art from 5pm – 9pm, where Tess Jaray's 'Promenade' will be on display. The piece was selected from the collection by Director Catherine Hemelryk and Artist Kwok Tsui, whose own solo show opens at CCA on September 30th. Visitors can even try their hand at screen printing with Derry Print Workshop and take home their own piece of contemporary art inspired by Kwok's own design.
From 7pm – 9pm Eden Place Arts Centre will host 'The River Runs', a beautiful body of work taking inspiration from the art collection, with the river as a key theme. The pieces have been selected from the Art Collection by local artists led by David Fahy, and will remain on display until October 5th.
Details of the art trail and all the cultural events taking place on September 22nd can be found at culturenight.ie/location/derry/