Mayor urges people to sign the register ahead of Organ Donation Week
14 September 2023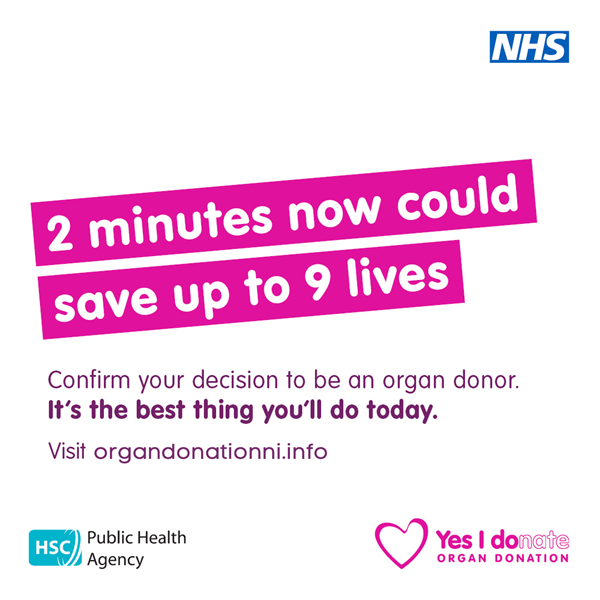 The Mayor of Derry and Strabane today encouraged people to show their support for Organ Donation Week by actively signing the NHS Organ Donation Register.
Councillor Patricia Logue was speaking just ahead of this year's campaign which runs from Monday September 18 to Sunday September 24. Council buildings will be illuminated in pink in support of organ donation, as part of the wider Big Light Up campaign
Organ Donation Week aims to encourage people of all ages to have conversations about the importance of organ donation, so if the time comes families are certain about their loved one's decision.
Mayor Logue explained that although the law has changed, it's still important to register a decision to donate as a proactive sign of support. "Organ donation is something we should all talk about with our families, as it gives certainty and reassurance to loved ones that they are acting in line with someone's wishes should they need to," she stressed.
"Up to nine lives could be saved by making that decision, and hundreds of lives are transformed each year. Families are always involved before an organ donation goes ahead, so I would really encourage everyone to have a conversation about organ donation and confirm their decision on the NHS Organ Donation Register. I will be lighting up the Council buildings in support of the campaign in memory of all those who have already saved lives, and as a reminder of the importance of signing up."
It takes just two minutes to sign the register online, giving a proactive sign of support for organ donations. #OrganDonationWeek is a celebration of organ and tissue donation and transplantation which saves and transforms hundreds of lives each year. A number of events and initiatives will take place throughout the week to raise awareness and share stories of those whose lives have been directly impacted by organ donation.
Find out more about the campaign and how you could be a lifesaver, as well as useful information on how to 'have the chat' with your family at www.organdonationni.info
Ends