Mayor urges public to gift local as she welcomes over 40 traders to 2023 Guildhall Craft Fair
17 November 2023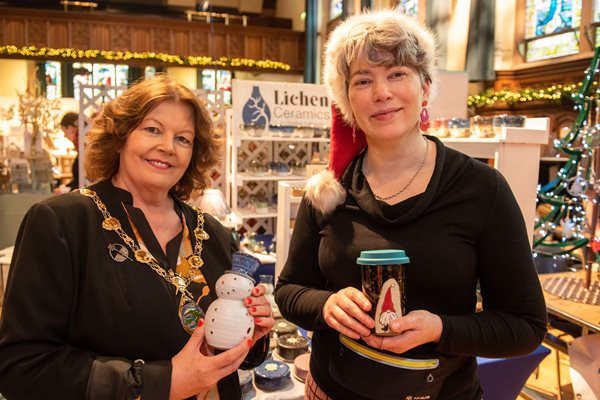 Mayor of Derry and Strabane, Councillor Patricia Logue, has officially kicked off the City and District's Christmas celebrations by opening the 2023 Guildhall Craft Fair on Friday.

The 27th edition of the annual three day event features 45 crafters and producers who will exhibit to thousands of visitors.

The Craft Fair marks the start of a comprehensive programme of Christmas events across the City and District that includes festive processions to turn on the Christmas lights in Derry and Strabane on 24th and 25th of November and the Mayor's Countdown to Christmas event in Guildhall Square on Thursday 21st and Friday 22nd December.

Speaking at the event opening Mayor Logue urged shoppers to make a special effort to gift local this Christmas.

"I am delighted and proud that as a Council we can host you here in the beautiful surroundings of our historic Guildhall and give you the platform to showcase our thriving craft and handmade sector," she said.

"The Craft Fair is renowned within the Irish craft industry for the high standard of artists and crafters it showcases and it gives local shoppers and visitors the opportunity to source bespoke gifts for Christmas. "Rising costs mean it can be a real challenge to start up and sustain a small business at the moment so I'd appreciate if people can make a conscious effort get behind our crafters and the economy by supporting this event and gifting local this Christmas. "Even the smallest purchase can make a big difference to every young and modest sized business." Opening Times for the Fair are Friday 17th November: 12noon - 8pm, Saturday 18th November: 10am - 6pm, Sunday 19th November: 11am - 6pm. The Fair marks the start of a packed programme of events to celebrate Christmas in Derry and Strabane, visit Derrystrabane.com/Christmas for more.