Official opening of historic Clooney Cannon Site regeneration project
21 November 2023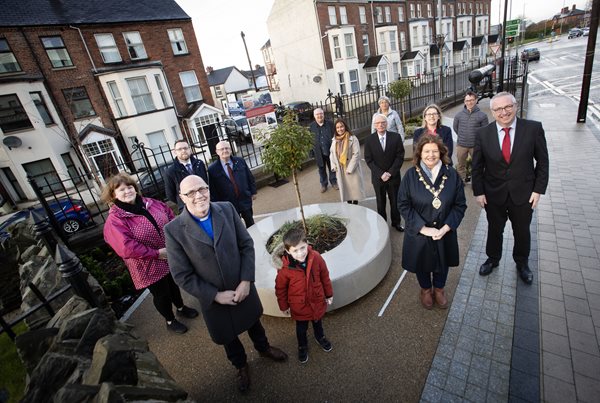 Construction works to improve the site of a historic Crimean cannon located on Clooney Terrace have been completed and formally opened at a launch event held this week.
The Clooney Cannon Regeneration Project was initiated by Derry City and Strabane District Council as part of a project partnership involving Bonds Street Community Association and Clooney All Saints Church of Ireland.
The project aimed to improve the presentation of the historic cannon and its immediate surroundings, open up access to the site, and provide information on the fascinating history of the cannon. A series of environmental improvements have also been made, including the provision of planting, seating, lighting, restoration works to the cannon as well as the installation of an interpretation panel. The cannon site has now been connected to the adjoining Clooney All Saints Church garden, through the creation of a dedicated access point, pathway, railings and external lighting of the Church building.
The design and construction elements of the project were managed directly by Council on behalf of the project partnership, and funding totalling £171k for the scheme was provided by Department for Communities to deliver the project.
Speaking at the launch event, Mayor of Derry City & Strabane District Council, Councillor Patricia Logue said: "This is an important and prominent site in the Waterside which is of major significance in terms of the heritage of the area, including the historic cannon, as well as its proximity to the adjoining listed church building and nearby designated Area of Townscape Character.
"I am delighted to see the creation of a new publicly accessible space for people to use, enjoy and appreciate its historical significance. This project exemplifies the effective partnership working between Council and local community stakeholders in developing an important area-based regeneration project.
"I would like to congratulate all the local community stakeholders, the funder Department for Communities and other partners in making the project happen," she concluded.
Pauline Campbell, Director of the Department for Communities' North West Development Office, said: "The Department is pleased to support the restoration and environmental improvement works at the historic Clooney Terrace site. It is a fantastic example of partnership working with both the local community and Derry City and Strabane District Council. "Together, we have not only helped to safeguard the future of the cannon and carriage but have also transformed the site into a welcoming space for the local community and visitors to enjoy. This project is an important part of the Department's ongoing investment in the regeneration of the city and protection of heritage assets. Our investment here of £171,000 follows on from a recent £225,000 investment at the nearby Melrose terrace and Bonds Hill sites."
Welcoming the project, Lloyd Magee, Chairperson of the Bonds Street Community Association, said: "The project concept was initially promoted by the Bonds Street Community Association as an important heritage-led regeneration initiative for the benefit of the local area and wider community. I am delighted to be part of the partnership with Clooney All Saints Church and Council in completing this project."
Reverend David McBeth of the Clooney All Saints Church of Ireland, said: "The cannon has a strong historical connection to our Church and therefore it was important for the congregation to be involved in this project. We are pleased to be able to incorporate and create a physical link between the Church garden and the cannon site."