Positive Ageing Month returns with packed programme of events
27 September 2023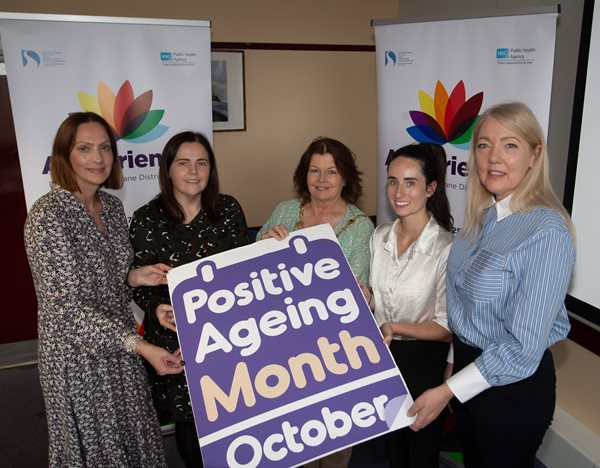 Activities and initiatives for older people will take centre stage across Derry and Strabane next month as Positive Ageing Month returns.
The Western Health and Social Care Trust and Derry City and Strabane District Council are working with the Public Health Agency and Community and Voluntary organisations to develop and promote the programme. The events begin on Sunday October 1st to mark International Day of Older Persons and Mayor of Derry City and Strabane District Council, Councillor Patricia Logue, officially launched the programme this week.
"I am delighted to introduce the programme for Positive Ageing Month 2023 - a month long festival to support older people," she said.
"This year's programme offers a wealth of opportunities for citizens aged 50+ years to be included in all aspects of community life across the District. Locally the Age Friendly Programme aims to engrain the inclusion of older people by increasing participation and access to services and making sure this is an enjoyable place for people to live and grow older in. The wide range of opportunities are reflective of the partnership working by all stakeholders including the community and voluntary sector who continuously reach out to support our older citizens. I would like to thank everyone for their contributions and the Western Health and Social Care Trust and the Public Health Agency for their ongoing support. I would encourage everyone to use Positive Ageing Month as an opportunity to try something new, get along to as many of the events as possible and encourage others to join you.
"Our roadshow information events are designed to provide advice on issues that are most relevant to our older population such as staying safe and keeping active. We also want to showcase some of the many opportunities to stay connected through hobbies and groups – demonstrating that Derry and Strabane is a great place to live and grow older. I am positive that everyone who attends the roadshows will find them very informative and I look forward to seeing everyone there."
Some highlights of the programme include walks, talks, music sessions, photography competition, talks on pensions planning and making your home more energy efficient, as well as a number of Information Events during the month".
Positive Ageing Information Events will be rolled out across the Council area, supported by the Public Health Agency and in partnership with the community and voluntary sector.
These information events will offer advice and information from local services in relation to home safety, offer guidance around issues such as fall prevention while also promoting opportunities to increase social participation, connect with others and stay active.
Derg Valley Leisure Centre in Castlederg will host the first roadshow on Tuesday 3rd October from 2-4pm while the second will be held at Foyle Arena on Wednesday 11th October from 11am-2pm. Attendees must register in advance and are encouraged to attend by themselves or with friends.
Seamus Ward, Head of Health Improvement, Equality and Involvement, Western Health and Social Care Trust commented: "The Western Trust is delighted to support the Positive Ageing campaign again this year. There is a diverse range of programmes and activities on offer and we are pleased once again to be involved and help promote this great opportunity to celebrate the contribution that older people make to our communities. We would like to thank our partners for all their hard work in delivering another successful Positive Ageing Month Campaign. We encourage everyone to take a look at this year's brochure and get out and about and get involved in as many activities as you can."
Fiona Teague, Head of Health and Social Wellbeing Improvement (West) at Public Health Agency (PHA) said: "Growing older shouldn't be a barrier to leading a happy and fulfilled later life. Empowering older people to live healthier and fulfilling lives is crucial to maintaining and improving their wellbeing. It can help reduce isolation, increase physical activity and also help encourage important connections with others which will be beneficial to mental health.
"Positive Ageing Month is a welcome opportunity to celebrate older people and for them to connect and become involved in events and activities which promote improvement in both physical and mental health which will in turn help reduce health inequalities. The PHA is delighted to work in partnership with Derry City and Strabane District Council and the Western Health and Social Care Trust to help recognise the invaluable contribution older people make within their community and wider society."
To register for either of the events, please advise if any special assistance is required or if you have any dietary requirements. To book your place at the Positive Ageing Month information events please contact Alexandra Wallace on 028 7125 3253 or email [email protected]. Information on the campaign and also Positive Ageing Month brochures can be accessed from the Western Trust Health Improvement, Equality and Involvement Department by emailing [email protected] or phone 028 7186 5127, or from Derry City & Strabane District Council by telephoning 028 7125 3253 or visiting www.derrystrabane.com/agefriendly