Tower Museum launches new archive of local film footage
19 September 2023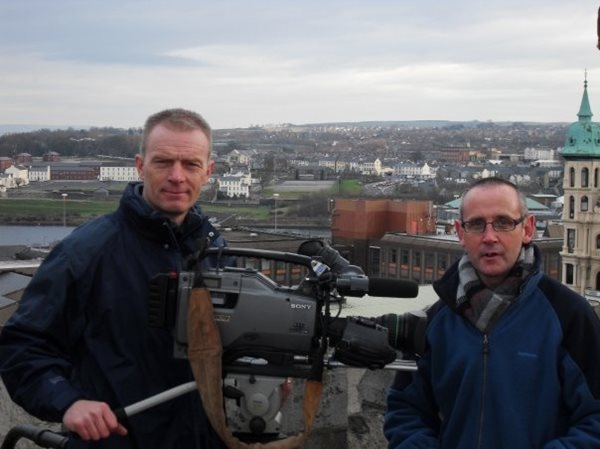 The Tower Museum today unveils a fascinating collection of local film footage showcasing Derry through the decades, brought together as part of a special project to digitise and preserve old footage.
The Tower Museum – Northland Broadcast Film Collection has been created as the result of a collaboration between Derry City & Strabane District Council, Northland Broadcast and Northern Ireland Screen's Digital Film Archive, and aims to catalogue and digitise material considered to be at risk. A selection of the collection will go live online from today, launched by Council in partnership with Northern Ireland Screen.
Developed and curated by the Derry-based filmmaker, Vinny Cunningham, the wide ranging collection features a medley of footage and programmes that Cunningham made or helped produce, along with older footage shot on film in the 1960s and 1970s by third parties. Many of the films were created by Vinny Cunningham under his production company, Open Reel Productions Ltd and the Museum of Free Derry also assisted in reviewing and selecting items to feature.
All of the footage is deeply connected to the city of Derry, whether through subject, location or theme, and the project has been funded through the National Archives Covid 19 Collections at Risk Grant Programme.
Looking ahead to the launch, archivist at the Tower Museum, Bernadette Walsh, said: "This collection provides a range of unique footage of Derry down through the years, capturing moments from Halloween and other local events, which will be of interest to both film buffs and anyone interested in local history.
"We are delighted that Vinny Cunningham offered to share this archive, I think it's so important that we capture these snapshots of local history and ensure they are properly preserved for posterity. Making the clips accessible online opens them up to everyone, and they will become an important resource for future generations."
The online launch with Northern Ireland Screen will focus on a small selection of material as a preview to the wider collection which will be available later in the year via an online catalogue. Any queries on the collection can be directed to Bernadette at the Tower Museum [email protected]
The Tower Museum – Northland Broadcast Film Collection is now available to view online at https://digitalfilmarchive.net/collection/tower-museum-and-northland-broadcast-205