Invest Derry Strabane
Our Investment Service Team are on hand to provide you with the most up to date information and resources on the investment potential and opportunities in the Derry / Strabane area.
Our team can provide support with:
Economic development and entrepreneurship
Partnerships with local companies
Free & confidential packages of advice
Attraction of inward investment
Help local companies grow and export
Increase availability of growth capital

Why do blue chip companies like Seagate Technologies, Allstate, Fujitsu, Kofax and Kainos continue to invest here?
There's our buzzing digital and creative community for a start. Our world-class centres of excellence working with global companies to push back the boundaries of fields like health and life sciences. Our business, professional and financial services are expanding rapidly, while innovative new companies and industry giants are developing the software of the future here in Derry~Strabane. Thats just part of the reason.
State-of-the-art science parks and business centres offer support for all kinds of entrepreneurs in a city and region renowned for low property costs. From healthcare to the future of robotics, our collaborative network of academics, clinicians and post graduates are helping lead the way in many avenues of research. Our leading educational establishments work closely with industry to produce graduates whose skills are in demand in crucial areas like software, computing and engineering.
And when it comes to quality of life, you'll find this cultural capital carved out of history is the friendliest region in the world.
Find out more at out dedicated website: www.investderrystrabane.com
Or contact a member of our Investment Services Team:
Rosalind Young, Investment Manager – [email protected] Tel: 028 71 253253
Adam Goodall, Investment Project Officer – [email protected] Tel: 028 71 253253

Click on our brochure below to view the Investment Opportunities: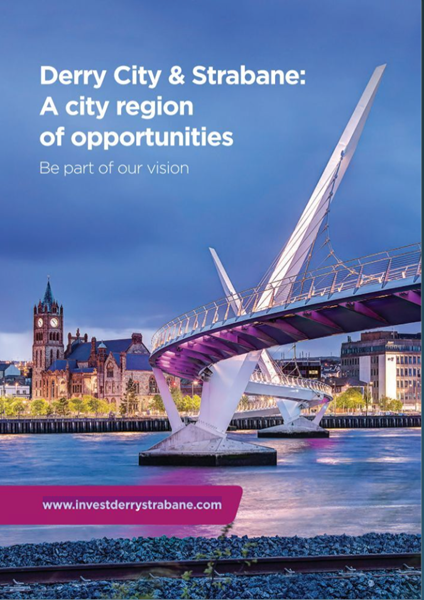 For more information on investing in Ireland North West region which incorporate the Donegal hinterland please go to www.irelandnw.com Click below to see our Ireland Northwest 'Gateway to Growth' video which was launched at the Golden Bridges event.

Subscribe to our Newsletter here