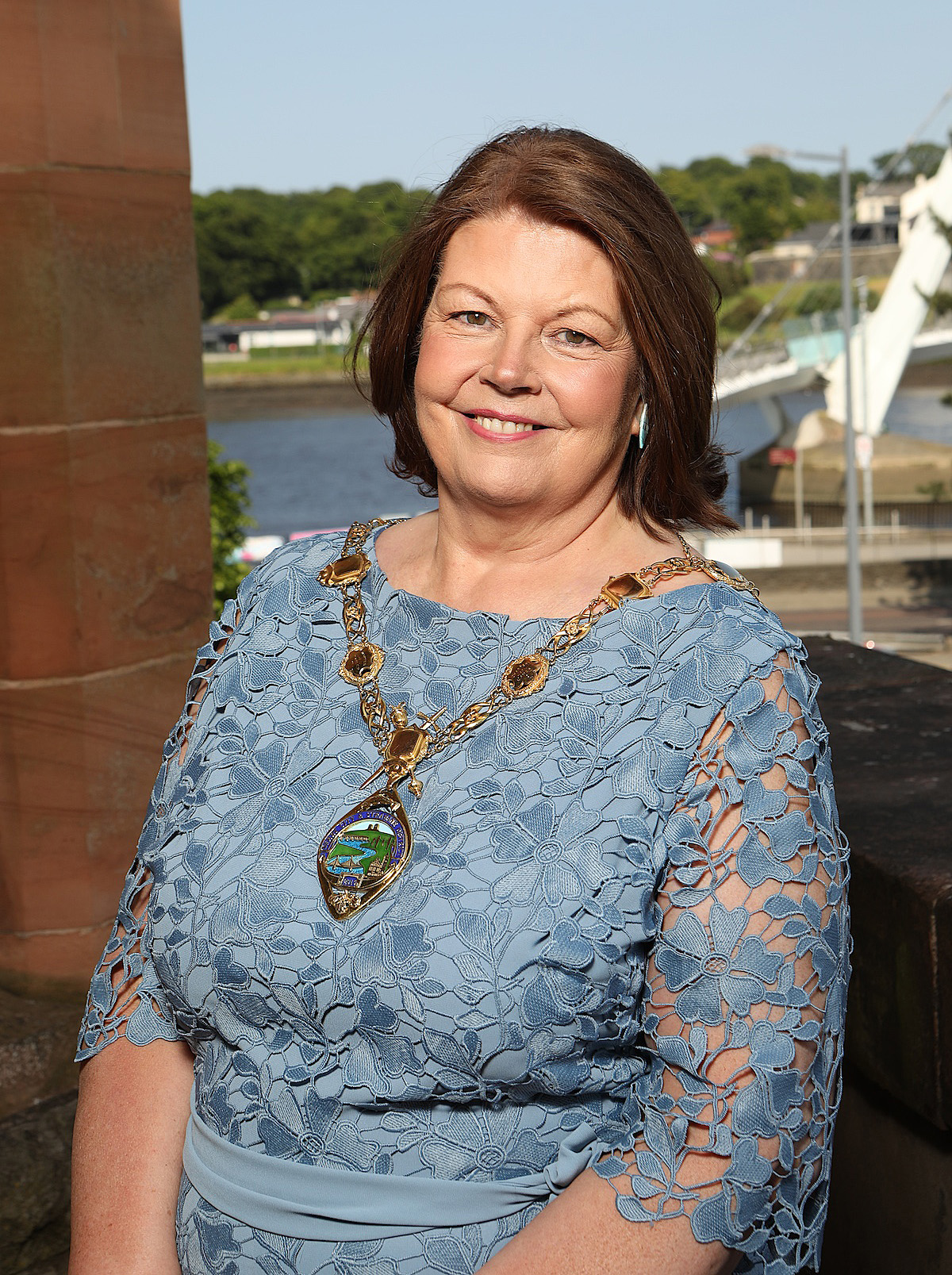 REMARKS BY COUNCILLOR PATRICIA LOGUE
MAYOR OF DERRY & STRABANE
5 JUNE 2023
I want to begin by thanking Sandra for her leadership, her compassion, her good humour and her friendship during the past 12 months. She has been an outstanding First Citizen and I know I have big boots to fill. Congratulations also to Jason Barr who has been elected as deputy Mayor. I look forward to working with you in the time ahead. I also want to take this opportunity to thank my family for all their support, throughout all my time on council. And I'd like to thank them in advance for all the support I'm going to need over the next 12 months!
It has been the privilege of my life to represent the people of the Moor Ward for the past 18 years.I know I simply couldn't have done it without the support of my husband, children and grandchildren.
And now as I take up position as Mayor where I will be representing all the people of this city and region - I know they will be at my side once again.
As indeed will Sandra and all my colleagues in Sinn Féin, who I want to thank for nominating me to this position.
Because while the mayoralty is an individual office, we very much believe that showing positive political leadership, building reconciliation, respect and prosperity in this society is a collective responsibility.
I believe in the concept of a Mayor for All.I believe that every citizen of this region has a right to have their voice heard and their aspirations respected.That is the approach which Sandra took and I fully intend to follow her example. Of course, I also know the coming year will be an intense and demanding one.Workers and families continue to face many challenges and there is big work ahead of us in continuing the transformation of this city for the better.We must do everything possible, within our power as a local authority, to continue to support workers and families and public services through the rising cost-of-living and deliver first-class council services.
But I also know from previous mayors that it is a hugely rewarding job.And I give you all my commitment that I will use this office to the very best of my ability to build on the fantastic work that Sandra has already done. I will continue to reach out the hand of friendship.I will continue to be a Mayor for All.And I will continue to do everything in my power to attract jobs, investments and opportunities to this city and region.
This is an incredible place. It is full of incredible people.And I know we can build an incredible future.Over the year ahead, I will put a particular focus on raising much needed funds and awareness of my mayoral charities which will be the Ryan McBride Foundation and the Foyle Hospice, who both do sterling work in our society. I look forward to working with you all over the next 12 months.
Go raibh mile maith agaibh.